For my first (and extremely long overdue) post on hip hop I bring you some rare mixtapes from my number 1 favorite producer/DJ, Madlib, aka the Beat Konducta and a thousand other aliases. Actually, there's so little official information out there about these tapes that their authenticity has been disputed. They sound like the real deal to me though - the left-field loops, crackling jazz samples, smoked out interludes and obscure vocal recordings all scream Beat Konducta.
All the information you need to know about these, including partial (sometimes complete) tracklists and some really cool photos, can be found on
this website
. Here are some brief descriptions of mine of each installation.
Vol. 1 is mostly a Stones Throw sampler, featuring remixes of tracks by Madvillain, Quasimoto, Oh No, MED, Wildchild, and others, but also including material by Method Man, Common, and Bobby Hutcherson.
Vol. 2, one of the best in the series, is a jazz mix featuring some scorching 70's fusion, Brazilian jazz, impassioned spoken word and trips to outer space.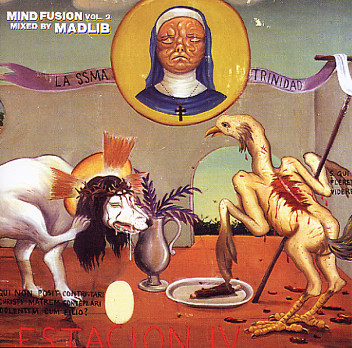 Vol. 3 is an eclectic selection of dub, jazz, comedy recordings, psychedelic soul, and much more - another standout.

Vol. 4 focuses on hip hop, and includes a set of Nas vs. Jay Z remixes.
The first long track on Vol. 5 is called "Dirty Crates from Around the World". The second is a live set with some great chopped up Dilla tracks, and closing with Madvillain's "Closer" given jazz horn treatment.